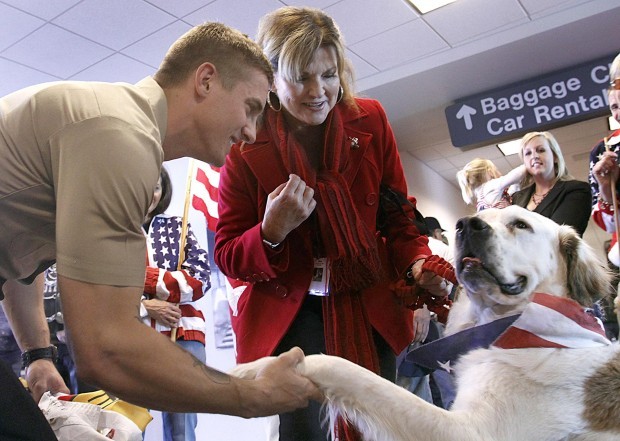 U.S. Navy Corpsman David Oliver get a big welcome Dec. 8 from Dover, official mascot for Welcome Home Troops, a Central Coast group that welcomes service members returning from deployment.  Jo Hartman of Orcutt, center, and her therapy dog were at the Santa Maria Public Airport to welcome Oliver home after his tour in Afghanistan.
His gentle soul and hulking frame hide it now, but Dover has survived a few battles of his own, making him the perfect mascot to welcome returning military members.  The St. Bernard, who was rescued twice, is the official mascot of Welcome Home Troops, a Central Coast group that greets soldiers, sailors, airmen and Marines arriving home.
"The troops love seeing him when they come home," said Cheryl Tolan, cofounder of Welcome Home Troops. "Most of them have dogs themselves that they had to leave behind. He adds a whole lot to our welcome homes."
Dover recently sat patiently in the terminal at the Santa Maria Public Airport as a growing crowd of friends, family and veterans gathered to greet Orcutt Navy corpsman David Oliver. He is attached to a Marine unit and had spent seven months in Afghanistan.  With little urging, Dover raised a furry paw and exchanged a high-five with Oliver.  "He's a gentle giant. He's not a huge barker. He's happy to give five to the soldier," said Orcutt resident Jo Hartman, Dover's owner.
A day earlier, Dover attended a ceremony at the Freedom Monument Veterans Memorial in Santa Maria. The following week, he traveled to San Luis Obispo to welcome home wounded Marine Lance Cpl. Cody Elliott. "He's a busy guy," Hartman said of the St. Bernard.
 Dover's also a dog with multiple lives. The 3-year-old dog was born among a litter of puppies belonging to a backyard breeder in Santa Maria. As the economy worsened, the breeder found people unwilling to buy puppies for $800 apiece. The Central Coast Society for the Protection of Animals took custody of the puppies, who were covered in fecal matter and drool.
After getting treated, Dover found a home that seemed to be suitable. But that owner later surrendered the dog at a local veterinarian office where the canine collapsed on the floor, suffering from major starvation and intestinal blockage. It turned out the dog had eaten plastic and metal shards along with a string mop that became entangled in his intestines and required surgery.
"This dog captured me from the moment I saw him," Hartman said.  Hartman took home the dog, who wasn't expected to survive the weekend. He did, but had a huge road to recovery, with special care and feeding requirements.
Even more surgeries followed. The fourth surgery occurred after she rushed Dover to the Veterinary and Medical Surgical Group in Ventura.  While she was making the trek, friends surprised Hartman by cleaning her house and putting a bouquet of flowers on her table with a note that said, "Never, never, never, never give up."  "That just did it for me," Hartman said, her voice filled with emotion. "I couldn't give up on him. So that's where we went. If he had been really suffering, there's no question. …"
At one point, with Dover languishing at the Ventura vet hospital, Hartman brought him home and arranged for a local veterinarian to show up to euthanize the dog if his condition worsened. "We were brokenhearted. I got so attached to him," Hartman said. Once again, Dover battled against the odds and slowly recovered. While she declined to mention cost of care, the last surgery added up to thousands of dollars. "We just couldn't see someone so innocent being put down for someone's inhumane treatment," she said. 
Garage sales, barbecues and "Candles for Canines" helped raise funds.  "We were exhausted but it was worth it. I'll never question that."  Today, Dover is the proof. "He's a character," Hartman said. "He's afraid of chasing big things, but he will chase sparrows out of the yard. He does drink in our Italian fountain, he doesn't want a water bowl."
Dover's arrival and improved health coincided with Hartman's joining of a military family support group. That group had an umbrella organization, Welcome Home Troops, to ensure that returning veterans get a greeting they earned.  It's a concept Hartman first learned of through her daughter, Tara Huseth, a flight attendant on planes that transport military members to and from the war zone. Huseth told her mom about World War II veterans who regularly greet troops arriving on the East Coast. They showed up, despite the time of day or weather, and were accompanied by canine mascots.
Hartman knew Dover could play a similar role. "I thought Dover would be a perfect match," Hartman said. 
The local Welcome Home Troops meets arriving military members coming into the Santa Maria or San Luis Obispo airports or train stations, or shows up at their homes.  "Dover has been all over the Central Coast," Hartman said. To prep for his duties, Dover underwent intensive training through Doggie Do Good in Nipomo to become a certified companion/therapy dog. For instance, the training helped desensitize him to sound because high-pitched noises upset him.  Those are critical to ensure the dog can handle the hubbub surrounding the homecomings and ensure neither human nor canine gets hurt, she said.
The dog's tale moved the founders of Welcome Home Troops.  "When we heard about Dover, we were very touched by that story," Tolan said, adding that upon learning Dover was getting specialized training, Welcome Home Troops decided to make him their official mascot.
Dover's story is included in a special section on the Welcome Home Troops website at www.welcomehometroops.info, Tolan noted.  "He has an amazing story," Tolan said. "It's very touching. He's very special to us."
The specialized training, which included time away from Hartman, caused Dover to lose weight and required that he take some time off to put on some pounds.  He's now up to 103 pounds and back on the job of welcoming warriors home. Hartman carries his official certification papers with her when they undertake a mission.
During training, Dover went to an Arroyo Grande oncologists' office; Hartman hopes to return with him there in the new year after learning how the patients reacted to the dog.
The retired Santa Maria Joint Union High School Special-Ed Teacher also plans to take Dover to work with at-risk students at Santa Maria High School.  And he rode in the Grover Beach Holiday Parade on Dec. 3.
But all those are additional duties, because welcoming military members always will be his first priority, Hartman said.  "Everything is trumped by the soldiers coming home. That's what Dover does first."  In true military tradition Dover has a uniform of the day — a vest and red, white and blue bandanna.  "He just seems to know when he's going to work," Hartman said.
Welcome Home Troops group never forgets
Welcome Home Troops formed in fall 2010 to greet returning military members, whether it's for rest and relaxation or a permanent stay. It's a way to "thank each and every one of them for a job well done.  "Our troops are never forgotten and are thought about in everything we do," the group's website says. "Our prayers are for their safe & speedy return. They make us very proud to be Americans."
The group was founded by Five Cities residents Robert and Cheryl Tolan and Lenny Jones.
The effort arose from an encounter with wounded warriors on the Central Coast for surfing lessons. The injured veterans were amazed by the welcoming they received from the Tolans' church congregation. "Every single one of them told us they had never received something like that," Cheryl Tolan said. "No one thanks them. Everyone's going about their lives as normal. My husband and I said, 'We're not having that happen in our hometown."
Welcome-home gatherings — families typically tip off organizers about a scheduled return — draw veterans, American Legion Riders, Patriot Guard Riders, military members' parents and friends and patriotic individuals united by the goal of greeting sons and daughters coming home. They will show up at the Santa Maria or San Luis Obispo airports or train stations to welcome home military members, individuals or groups. Additionally, they have appeared at veterans homes for surprise parties.
Returning members receive a flag signed by their supporters and a gift bag.  "I will tell you the best way to describe it is to come to one. I can't even put it into words, what it does to you," Cheryl Tolan said. "Even though we're more than 100 I'm still moved to tears."
For more information, go to www.welcomehometroops.info or search "Welcome Home Troops" on Facebook.
By Janene Scully/Associate Editor janscully@santamariatimes.com Santa Maria Times | Posted: Thursday, December 22, 2011